You will enjoy 2 Full-Days chasing billfish, wahoo, yellow fin and Mahi (dorado) on a world-class Los Suenos fishing charter boat.
Unlike many fishing destinations around the world, where arriving at a prime fishing location involves traversing rough seas for hours at a time, the waters of Costa Rica's Central Pacific Coast are calm. The unique geography of the Costa Rican mainland serves to shield the waters of the Central Pacific Coast from high winds and generally allows for a relatively smooth and short trip from the mainland out to the best fishing in the world.
Outside of sport fishing, you will also choose from a range of other tours that allow you to fully experience and take advantage of all of the recreational opportunities Costa Rica has to offer.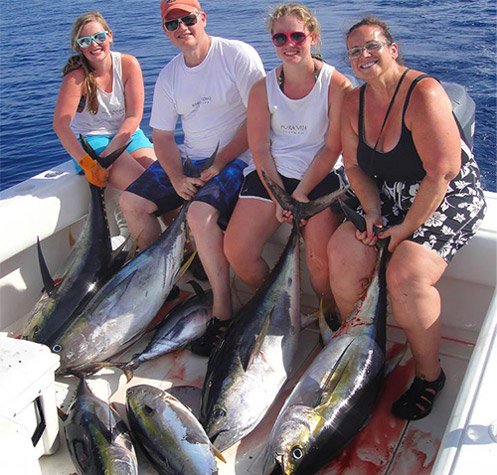 Included in this package is your choice of a variety of other exciting tours that allow you to explore various aspects of this tropical paradise. Choose to spend a day exploring Costa Rica's rainforest and waterfalls on an ATV, surfing one of her world-famous Pacific waves, or zip-lining through the rainforest canopy. Just a few examples of the many exciting experiences you have to choose from on this dream package.
On the last day of your Fisherman's Dream Getaway package, your personal driver will arrive at your condominium to transport you back to the Juan Santamaria International Airport in Alajuela/San Jose (SJO). As with your arrival in Costa Rica, you can sit back and relax, as our professional drivers and staff ensure that your return transportation to the airport is seamless and easy. We know it's tough to leave Costa Rica, but we are confident that this dream fishing vacation in Costa Rica will leave you thinking about your return. So contact us today to take this dream trip in the Jaco Beach and Los Suenos, Costa Rica area.