Green Season Bounties of Marlin and Yellowfins
Posted on: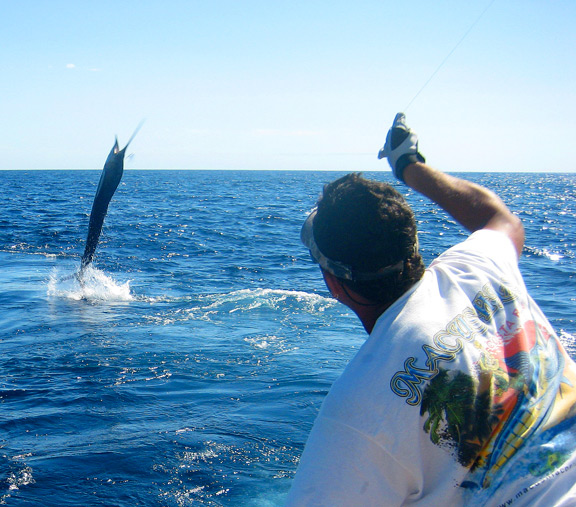 Big game fishing around Los Suenos, Costa Rica has been a bounty of marlin, yellowfins and wahoo of late.
We're officially in the green season, or as some call it the rainy season, but don't worry that your dream fishing charter will get washed out. Most of our recent days start out sunny and get increasingly cloudy only as we head into the afternoon. But the cloud cover mostly stays over land and the showers we do see are usually refreshing evening rains. If a day happens to start out cloudy, you're almost guaranteed to see a sunny afternoon.
All About the Inshore

What the green season also brings is some amazing inshore fishing. As the rains sweep inland debris to the sea they create perfect spots for catches that like to hide under cover. We've been getting a bounty of bonitos and tripletails. Even better, we've been coming across fish that like to feed on small baitfish found under the debris close to shore. Almost daily we're coming across good numbers of smaller yellowfins in the 20 and 30-pound range and dorado. We've also been having luck with bigger dorado a few miles further out. Tender and mild with a flavor that's similar to salmon, dorado makes for a wonderfully tasty and low-fat meal.
Closer inshore, especially along the rocky reefs of Herradura Bay, it's been all about jacks, cubera snappers and roosterfish. While the taste of roosters isn't to everyone's liking, almost all anglers agree that the feisty fish with it's iconic spiny dorsal puts up a fight that more than makes up for the flavor. On average, we've been seeing about seven roosters a day.
The inshore reefs have also been giving us some nice wahoo catches in recent days as well. But the bigger wahoo have been seen offshore and we've been consistently hooking wahoos from 30 to 50 pounds. They're not only a great catch that puts up a wonderful fight, but wahoo is also an excellent table fish when served just about any style you wish.
Sailfish Steady as More Marlin Move In

We've had a nice run through May with a peak of consistent 20 or more sailfish bites a day, and some lulls where that dropped to about ten a day, which is still respectable for the summer months. We sometimes see the sailfish action slowing down this time of year, so we expect those moderate numbers to hold and aren't waiting for a spike.
But as sailfish taper, the mighty marlins come in! While you can almost always count on marlin in these parts, May through June is traditionally a great time to hook blues and blacks and we've been getting around seven bites most days. They've spanned from 100 pounders to whopping 400 pounds and put up fights that many fishermen only dream of. When we come across some floating debris, inshore or farther out, there's a pretty good chance we'll find a marlin.
It's Tuna Time!

The fact that yellowfins are always found in Central Pacific waters is a big draw for fishermen from across the globe. We've seen a strong showing offshore in recent weeks and I think we can officially say peak yellowfin season is here! Following the telltale spinner dolphins and birds, we've been finding the bigger yellowfins that are anywhere from 50 to 250 pounds. If past years are any indication we should be looking at consistent catches in the 50 to 100-pound range, with a nice number of 200 pounders in the mix going straight through to October.
Fishing charters fill up fast so if you want to get in on an amazing excursion out of Los Sueños Marina contact one of our agents today.