Flotsam Creates Fertile Fishing Grounds!
Posted on: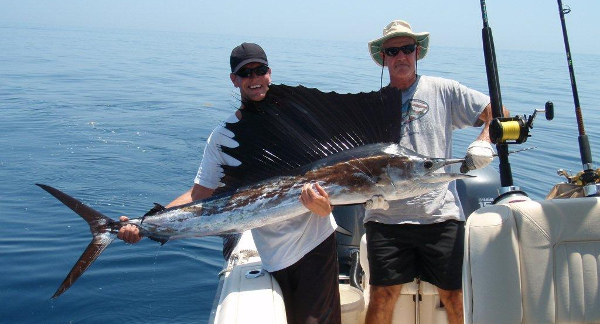 Fishing charters out of Los Suenos Marina, close to Playa Jaco, have been enjoying a good green season, where debris from the coastal forests sweeps out to sea to create great spots for hooking a host of fine fish.
The Delights of Debris!

As it's the green season, we're seeing more flotsam that's being carried out into the ocean by the seasonal rains that we can get in the late afternoons and evenings. So when we come across a big log, or maybe a line that's gathered smaller chunks of wood, there's usually a bounty hiding out underneath. This is where the baitfish like bonitos, or sometimes small yellowfins or small mahi-mahi are often found. And that means the majestic marlin that feed on these fish are usually around as well. There's been plenty of debris in recent days and so finding marlin has been easier of late.
And while most of the mahi-mahi and tuna in the areas of debris are too small to harvest, many of our younger anglers have been immensely enjoying the action with fly rods. They'll probably have to wait for the bigger mahi-mahi to come when peak density hits around October, usually staying pretty solid until December and early January before tapering off a bit.
How's the Tuna Action?

As most seasoned anglers know, there really is no bad time for tuna in our Central Pacific waters. These days, all you have to do is look for traveling pods of porpoises and almost inevitably you'll come across some nice yellowfins of various sizes. Using rubber squids and other artificial lures, we're regularly hooking them in the 30 to 40-pound range. Live baiting has been bringing in yellowfins at 100 pounds and higher.
Marlin Always in the Mix

As expected for this time of the year, offshore marlin has been pretty good lately. Most days we're getting around three solid bites, mostly blue and striped marlin. And we have occasionally come across marlin and sailfish while trolling waters closer to shore. Live baiting along the reefs during the green season often hooks a marlin in the 400-pound range and provides the show of most fishermen's lifetimes with amazing aerial acrobatics.
Heading out off the coast of Quepos we've been having some good luck with small dorado and wahoo, the latter usually in the 30-pound range. Out along the edge of the continental drop-off has been good grounds for sailfish. Even though the green season generally isn't the peak time for sailfish in these waters, it's common to get around five bites in a day. But we're expecting the usual seasonal change with sailfish in bigger numbers moving in around November.
Also looking ahead, based on past years, striped marlin should start showing up in higher numbers at the end of the summer and stay solid through January. We likewise expect blue marlin to do the same in offshore waters.
Table Fish Aplenty Inshore

The inshore fishing has been steady as usual, and roosterish have been plentiful. While they may lack the majesty of hooking a marlin, a rooster still puts up a feisty fight that most anglers simply love. And yes, while roosterfish is an acquired taste for many, cooked the right way (say marinated in lime juice and sauteed until slightly brown) they can make for a tasty meal. We've also been seeing good densities of amberjack and cubera snappers in the same areas. In shallow inshore waters, say the 75-foot range, we've been seeing roosters, mackerel and jacks in nice numbers.
The green season is a great time to get out there! So if you're in and around Jaco Beach and Los Suenos, Costa Rica, contact one of our agents to arrange the fishing trip of a lifetime.