If you're considering a stay at Los Suenos for your family vacation to Costa Rica, here are a few reasons why you'll be glad you did.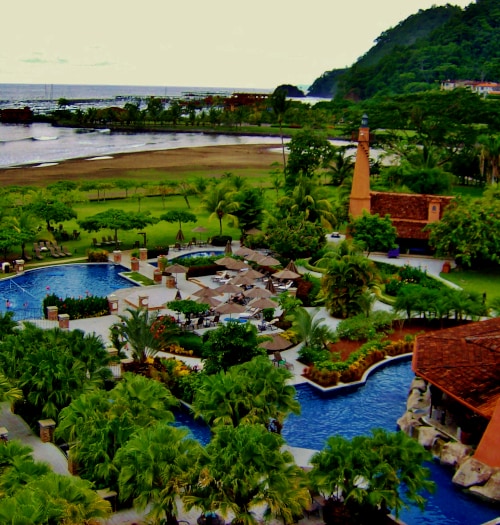 1) An Unforgettable Pool
If you've got kids, you probably know that the first thing they hit and the last thing they leave on vacation is the pool. This one could be particularly hard to coax them out of. A sprawling Venetian-style pool, the splash-tastic heart of the Los Suenos Marriott Ocean & Golf Resort has waterways that wind under bridges and along waterfall features. It opens up to wide areas for spreading out or getting in a game of volleyball.
But the pool isn't just for kids, as parents tend to notice the inviting swim-up bar, a perfect place to relax with a tropical cocktail set against the backdrop of swaying palm trees and the seemingly endless expanse of Pacific waters just beyond Herradura Beach. And the splashing good time doesn't end when the sun goes down. There are poolside movies at night.
2) On-Site Family Fun

Yes, the pool is a high-profile draw of the resort, for kids and adults, but the family-oriented activities don't stop there. Set the little ones loose at the playground, all can enjoy a round of miniature golf, and then there's the Tortuga Kids Club, offering arts and crafts workshops among its many supervised activities.
Adventurers of all ages love setting off on the La Iguana Experience, a guided tour of the lush grounds that take you along trails through nature where you're apt to spot monkeys high in the trees and exotic birds of all shades. Stroll over to the adjacent Marina Village and treat the gang at an oceanfront ice cream parlor.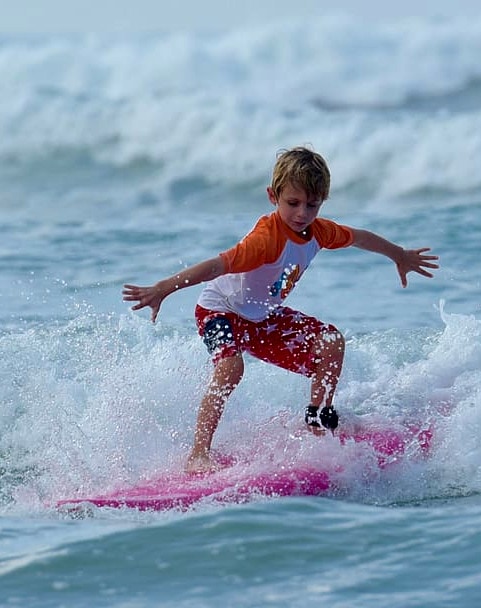 3) A Stay by Beautiful Beaches
If you're staying at Los Suenos Costa Rica, you'll probably have a hard time leaving Herradura Beach. The serene stretch of sand that fronts the resort meets calm ocean waters, protected by an idyllic bay, that are perfect for swimming and kayaking. But do a bit of exploring and you can discover beaches like Playa Escondida, just beyond Los Suenos and a great spot for lazing on the sand, surfing, or exploring its shores by boat. To the north of Los Suenos lies Playa Mantas, an unspoiled spot with palm trees right on the sand and calm waters for swimming. Head south and you'll find Playa Hermosa, where surfers take on challenging waves and seaside eateries serve fresher-than-fresh seafood.
4) Family Fishing Trips
When one thinks of the big-game fishing out of Los Suenos they might imagine massive crafts outfitted with heavy gear for the world's top anglers. And that's true. But there are lots of other more-relaxed expeditions out of the marina that are perfect for families. Enjoy a half-day charter on a craft that's suited for four anglers. And while heading out to deep water to go after serious sailfish is the claim to fame in the waters of the Central Pacific, the rocky inshore reefs present catches that are perfect for pint-sized anglers, who love hooking feisty roosters and deep-dropping for groupers. One of the parents just might hook a massive black marlin that are known to feed close to shore.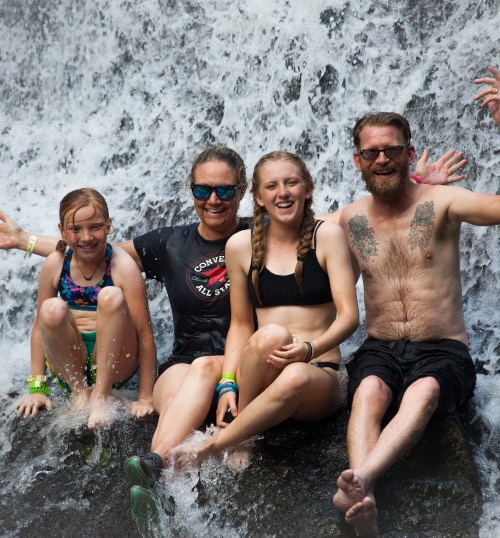 5) Your Pick of National Parks
Costa Rica's natural beauty is what draws in visitors from across the globe, and almost nowhere can you experience nature better than in its protected national parks. About a 20-minute drive from Los Suenos, Carara National Park is home to an incredible array of wildlife, from sloths and monkeys to native deer and the country's largest population of scarlet macaws among the rainbow variety of bird-life.
You've probably heard of the famed Manuel Antonio National Park, a 90-minute drive from Los Suenos and ideal for a day trip to stroll its rainforest trails or basking on one of its sublime beaches. Another day trip, Monteverde Cloud Forest Reserve invites you to cross hanging bridges through a mist-filled wonderland overflowing with flora and teeming with fauna.
So plan a family trip to stay by the beautiful Los Suenos Marina and escape to one of Costa Rica's most scenic spots that the entire clan can enjoy.