The offshore bite stand strong.
Posted on: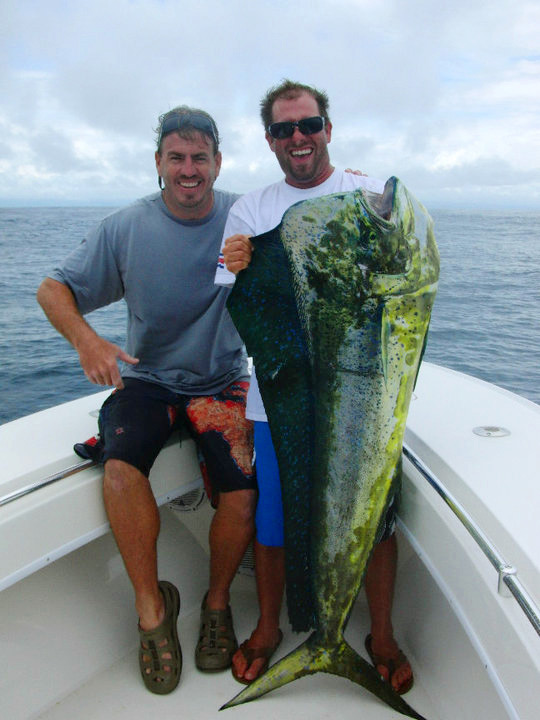 The Los Suenos sailfish bite offshore has continued to be strong for off-season. Boats lucky enough to be fishing have been seeing sailfish in the double digits, landing 4-8 on average for most of the week.
I fished Tuesday October 3rd aboard the smaller boat I captain - the 32' Contender. We started trolling in the craters about 25 miles offshore. We caught one out of two sailfish bites in the first hour, and then arrived in an area with lots of marine life activity about 30 miles offshore.
Hundreds of spotted dolphins scattered around, with flocks of terns and gannets diving on the baitfish being balled up by the porpoises. Trolling around them, we saw several sailfish "tailing" on the surface, and we had the chance to catch a couple more.
We broke out the poppers on spinning gear for a while and chased the birds and porpoises around. We caught yellow fin tuna that were chasing the bait with the porpoises - the clients had a awesome time casting the poppers themselves and having 50lb tunas crashing them on the surface.
At the end of the day we ended up catching 15 yellow fins ranging from 20-50 lbs. and 6 sailfish for 12 bites that day. A few times there would be several other sailfish following the one we were fighting on the line. We tossed live bait in, and watched another sailfish chase it and devour it in front of us. It was definitely a cool way to catch one. We actually had a few sails chasing the poppers we were casting, but did not manage to get a hook in one.
On the way in we also came across two pods of humpback whales within 10 miles of shore.
Humpback whales are essentially an everyday sight on our trips this time of year. Often they are families of two to seven whales often with calves. The adults average 60 -80 ft and the calves are usually about 20 ft long. They can sometimes be seen "breaching"- jumping completely out of the water, from the beach in front of Jaco Beach.
The inshore Los Suenos fishing remains consistent with lots of bait and hungry roosterfish around. I fished inshore last week and caught 3 for 4 roosterfish up to 60lbs. On a trip to tortuga island we also caught several hard fighting jacks and Travail's throughout the day. Afterwards we paid a visit to my secret snapper rock and caught about 15 nice lane snappers for the clients to enjoy a " pargo frito entero" (whole fried snapper) dinner.
Tight Lines!
Capt MJ Alligood
32' Contender
CAPTAIN MICHAEL ALLIGOOD