One of the best sailfish months over the past few years.
Posted on: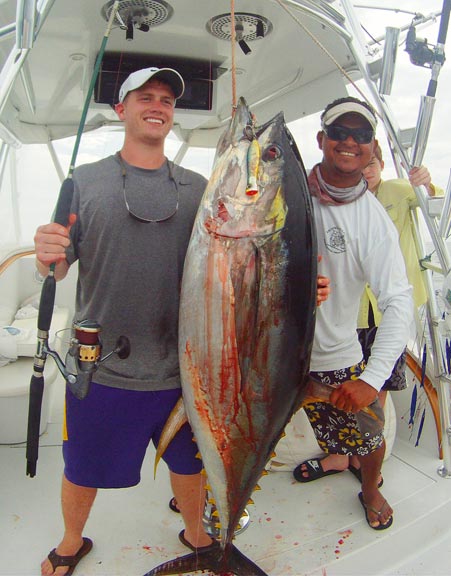 As usual, Costa Rica fishing from Los Suenos in April has provided us with some excellent fishing. The conditions have been mostly very calm with sunny temperatures in the upper 80's
Offshore Costa Rica Fishing
Recently we had the 2013 IGFA Offshore World Championship that took place in Quepos in mid-April. A total of 68 competition fishing boats came from over 20 countries, including all the most respected Costa Rica fishing teams.. All the best boats available for charter in Costa Rica came to compete.
I can proudly report that I and my crew took the top spot with 26 sails, and one Blue Marlin released!
This April Los Suenos fishing has been producing plenty of sailfish. Most days we are averaging 8 to 15 billfish averaging 80 to 100lbs. These acrobatic fighters are the bread and butter of offshore Costa Rica fishing.
Los Suenos fishing is well-known as one of the best spots in the world to catch a sailfish and knock that of your bucket list. We catch sailfish here quite steady year round.
In addition to sailfish, there have been good numbers of Mahi- Mahi /Dorado around as well. We haven't been catching one every day, but every few days we will catch a couple, most of which are in the 20 to 50lbs. range. These are an energetic fight as well as an excellent meat to take home for dinner. The Mahi fishing action should be improving over the next several months with peak months being May – November.
There has been an unusually high number of Wahoo around offshore. We have been getting bites from these toothy predators almost every day. Most of these fish are lost due to them snipping through the monofilament leaders boats use here for billfish. We do occasionally catch one on a lure, or bait rigged with wire. Most Wahoos have been from 30 to 50 lbs. Wahoo is also excellent tabs fare, and taste great as sashimi, ceviche, or cooked any way you like.
Wahoo tends to start moving into the Los Suenos area this time of year, the peak time for them being July - December. If Wahoo is what you really want to catch, they can often be targeted by pulling small subsurface lures and baits on wire leaders. This fish is most commonly found around reefs.
Marlin ( blues, blacks and striped) had been unusually scarce here for a few months, but started showing up in good numbers in the second half of April. In late April we began getting about one shot per day at these magnificent fish.
Marlin are extremely strong powerful fighters with explosive energy, most here are between 100 to 400 lbs. The Marlin is considered the pinnacle of offshore Costa Rica fishing. Small Yellowfin Tunas traveling with spinner dolphins are often a good chance to live bait for the Marlin that eat them.
If you are looking for an awesome fishing experience, be sure to book a trip with me this time of year, I specialize in the most intense tuna trip you will experience here in Costa Rica. We do a mix of live-baiting and casting poppers (top-water lures) on specialized spinning gear outfits. It is some of the most fun exciting Los Suenos fishing you will ever experience. Be prepared for a fight! When we find them we often have to stop catching them and begin releasing them after 10 to 15 or these 60 to 70 lbs. fish. You will sleep well that night,worn-out and with a full belly! Tunas are excellent table fare, as sashimi, sushi, seared or grilled.
Inshore Costa Rica Fishing
Inshore Fishing through April has been excellent as well. Live bait has been readily available and easy to catch which is the key to inshore and near shore success.
Good numbers of large Roosterfish have been available near rocky points and near shore reefs. Most catches are 30-80lbs. I rarely catch any smaller the way I fish. These are one of toughest and most spirited fish you will fight. The Roosterfish is a very unusual and cool-looking fish. This fish is only found on the very serious angler's bucket list, and Los Suenos Costa Rica is one of the best spots in the world to catch a trophy one.
Species such as Snappers, Groupers and Amberjacks are some of the other opportunities you have to bend rods and catch dinner.
Inshore and near shore Costa Rica fishing is typically excellent year round with a variety of species to pursue and constantly changing.
Tight Lines – Captain - 34' Walkaround