Close to Playa Jaco, the Los Suenos Hotel Marriott is set within the stunning, manicured landscape of The Los Suenos Resort - the undisputed victor of luxury hotels in Costa Rica.
The soft rolling green hills of an 18-hole signature golf course beckons just steps from the Los Suenos Hotel entrance. This course will let you leave the work-a-day pressures of your pre-vacation life behind you as you slip into the hypnotic tranquility of this world-class Los Suenos Hotel set in a Costa Rica tropical paradise.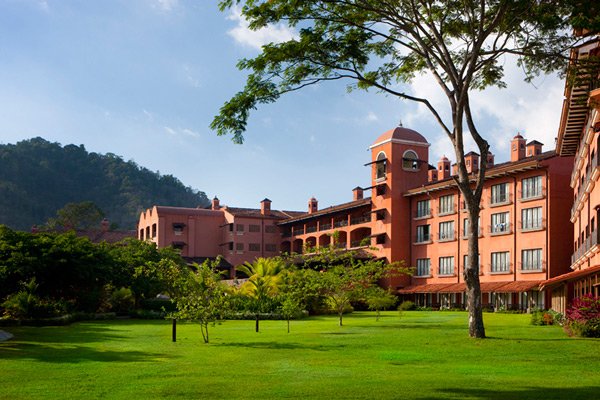 Stretching out behind the Los Suenos hotel are the Pacific waters of the Los Suenos Marina, her picturesque fleet of immaculate Charter Boats moored along perfectly maintained docks – all within three minutes walking distance from your Marriott Suite.
The high-end boutiques, coffee shops and restaurants that line the Marina Village, the gentle waves that splash softly against the sport fishing charter boats and private yachts, and the lush rainforest pressed against the sands of the Los Suenos Hotel's beaches made the Marriott a top choice for Travel & Leisure Magazine.
The area that surrounds the Los Suenos Hotel Marriott is over 1,100 acres of vibrant Rainforest Mountains that have made the Los Suenos Resort a world-renowned playground for celebrities, newlyweds, travel sophisticates, business professionals and families alike.
Total Price
Contact Us With Requested Dates
Amenities
A/C
Turn-Down Service
Room Service
Newspaper delivery if requested
Cable TV with Movie Channels
International Cable/Satellite
Radio/iPod Dock & Alarm Clock
In-Room Personal Safe
Parking Onsite
Valet Parking Services Available ($6/Day)
Daily Housekeeping
On-Site Casino
On-Site Spa
Six On-Site Restaurants
On-Site Fitness Center
On-Site Meeting Center
On-Site Convenience store
Local Telephones with Voicemail
High speed Internet (for a fee)
Wired/Wireless Internet (for a fee)
Coffee Maker/Tea
Instant Hot Water
Mini Bar
Feather Beds & Designer Linens