Costa Rica Fishing Charter: 38' Custom D&A Sportfisher
The Marina's Sweetheart
For charter boat fishing, you can't go wrong with a custom craft out of Los Suenos Marina that was built by locals for local fishing spots.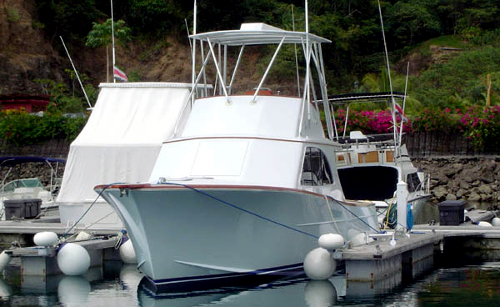 Custom Crafted in Costa Rica

Built in Costa Rica by seasoned craftsmen who have a unique understanding of Central Pacific waters, this D&A Sportfisher was made for charters out of Los Suenos. This custom cold-molded beauty is powered by twin Cummins diesel engines that take you to a top speed of 35 knots and cruise along at a clip of 28 knots.
Starting off as a mate in his teens and later as a licensed captain, Johnny Cerpas has been leading charters on this Sportfisher for nearly 20 years. His professional fishing experience goes back even farther, having spanned the globe's greatest fishing grounds as a commercial fisherman. Johnny is joined by an able bilingual crew that includes mates Michael and NoNo, both with over 15 years of professional angling in Costa Rican waters.
Awards for Offshore Fishing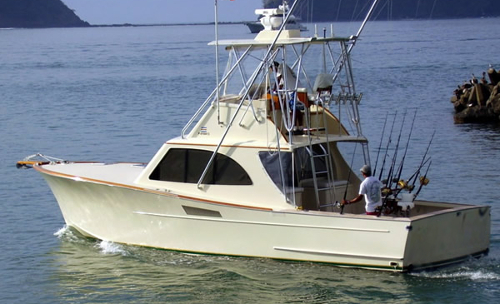 You don't have to just rely on the resumes of the crew to rest assured that you'll have a bountiful day of fishing. This boat has brought in some serious trophies. Among other awards, the team snagged top prize in the 2018 Offshore World Championship in Quepos. This Sportfisher was also named Top Boat and landed Top Captain in the esteemed 2017 Offshore World Championship Tournament. The accolades won in past years go on.
A high-tech wonder, this sturdy boat is outfitted with a 98-mile 25-kilowatt radar that's used to search for the birds that are the telltale sign of fertile fishing grounds. Premier pieces of hydroacoustic technology, Simrad echo sounders and sonar transducers offer unrivaled sensitivity for fish detection at almost any depth. The tech continues with dual VHF radios, GPS and chartplotter navigation features.
The Finer Side of Charter Fishing

You can also enjoy modern technology to provide creature comforts! Twin air conditioners cool both the cockpit and a well-appointed cabin. You'll find a microwave and a refrigerator in the galley where the crew can use their considerable culinary skills to make on-the-spot sushi, ceviche or sashimi from your fresh catches. There's ample seating in the cabin, comfortable bunks below and an electric-powered head with a shower. Great for family outings, the charter keeps you satisfied with a full lunch, along with plenty of fresh local fruit and other snacks throughout the trip. Enjoy water, soda or ice-cold beer during your idyllic day out on the water.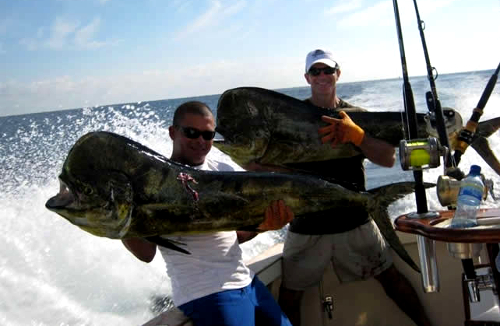 All the Best Gear and Then Some

When you (hopefully) hook that massive marlin you'll be glad there's a Release Marine fighting chair and a rocket launcher. From Shimano and Cape Fear rods to electric teaser reels and Rupp outriggers, the Sportfisher is outfitted with just about every tool an angler could wish for. The cockpit is equipped with both a live well and sizeable fish box. Whether you're sticking inshore for a half day of reef fishing or heading out for bigger prizes, the best equipment for any application is always close at hand.
Big game fishing is one of the best things to do in Costa Rica and a charter on this Sportfisher is one of the best ways to experience saltwater fishing like a pro angler.
​Boat Type:
Thirty-eight foot D&A Sportfisher
Capacity:
6 Anglers
Schedule:
Full day (inshore or offshore): 7:00am-3:00pm
Half day (inshore only): 7:00am-12:00pm
Engine:
Twin Cummins 370B Diesel
Equipment:
Shimano reels
Tyranos 30s
Tiagra 50, 80 and 130s
Rupp outriggers
Electric teaser reels
Shimano and Cape Fear rods
Fly fishing equipment
Release Marine fighting chair
Rocket launcher
2 VHF radios
Digital depth sounder
Radar
Terminal tournament tackle
Fly fishing tackle
LP teaser
Dredge reels
Live well
Tuna tubes
Fish box
Crew:
Captain Johnny Cerpas
Mates Michael and NoNo
Included:
All equipment
Bait / tackle
Snacks
Beer
Sodas & water
Lunch (full day trips only)
Recommended:
Light comfortable clothing (shorts, t-shirt)
Long-sleeved shirt/cover-up
Swimsuits
Comfortable deck shoes
Waterproof sunscreen
Sunglasses
Camera
Strap for sunglasses or prescription lenses
Tight-fitting hats with brims (ball-caps, visors, etc.)
iPod/MP3 player
Restrictions:
No dark-soled shoes permitted on deck
Half-day charters are available for inshore fishing only
Please notify for special needs/food requests
Permits & Tipping:
A gratuity of 10-20% to the captain and crew is customary.
Temporary fishing permits are not included. Available for purchase at the INCOPESCA desk at the Los Suenos Marina charter dock