Los Suenos Fishing Charter: 45' Omie Tillet
One of the more unique charter boats out of Los Suenos Marina, this classic Omie Tillet offers fishing trips with old-school style and cutting-edge technology.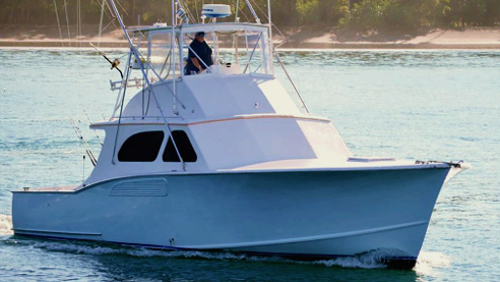 Climb aboard an important piece of charter-boat history on this choice craft. Hailing from North Carolina's Outer Banks, Omie Tillet was considered far ahead of his time when he constructed his first sport-fisher. With softly sloped tumblehomes, broad broken sheers and splayed bows, the distinct creations of Omie Tillet have been turning heads since the boatbuilder's heyday in the 1970s. Given that the singular designs not only look stunning but perform amazingly in open water, these masterworks have been coveted and carefully maintained by boat aficionados through the years. To this day boatbuilders are guided by his original concepts and more-contemporary vessels still look strikingly similar to Tillet's early efforts.
Meet Your Captain, Crew and Cat Power

A single 800 horsepower Caterpillar diesel takes this Tillet to a cruising speed of 23 knots. Enjoy the view from bridge seating on either of the helm's sides as you cut through the calm currents of the Gulf of Nicoya. Your able captain is Mitch Pierson, who has been fishing these waters and commanding charters in Costa Rica for more than 15 years. In the offseason, Captain Mitch heads out to compete (and win!) in fishing tournaments across the globe. Along with his bilingual crew that includes mates Sean O'Donnell and Will Bassett, this tried-and-tested seafarer can almost guarantee a day of bountiful catches.
Whether you're trolling or deep dropping close to shore or going after big game farther out, you'll have all the world-class gear you could desire for any task at hand. With Shimano reels, electric LP dredge reels and a full fighting chair (just to name some of the equipment), the fish don't stand a chance against your angling.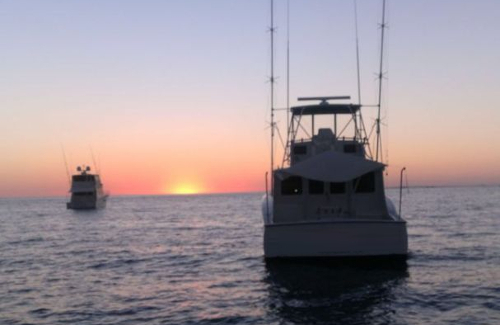 Retro Vibe With Modern Updates

While this boat may have some serious throwback flair, most of the major components have been updated and retrofitted. Enjoy brand new Furuno electronics with the NavNet VX2 radar system and twin 15-inch Garmin monitors. There's a new Phasor generator, premium Dolphin battery charger and Isinglass windows. From the bridge rail, gunnels and the new deck to the salon's refurbished interior and all new wiring throughout, this Omie Tillet has been brought up to date in fine style.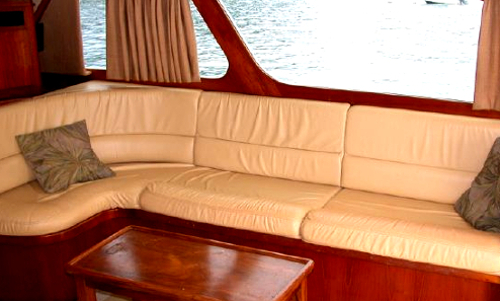 Charm and Comfort of a True Classic

It may be newly remodeled, but the spacious air-conditioned salon also maintains a vintage vibe with an abundance of polished teak and a luxurious leather couch. Sidle up to a hardwood bar and plant yourself on a stool to enjoy an ice-cold soda or beer, swiveling to gaze out to sea through wide windows. Enjoy a catered lunch made from local ingredients and served from a full galley that continues the retro theme with tile work that takes you to a simpler time. A full bathroom with a shower is also adorned with unique tiling not found on more-contemporary crafts. Down below you'll find a spacious stateroom.
So set off with a classic fishing charter you'll never forget on the trip to Costa Rica of a lifetime with this time-tested craft and its worthy crew.
Boat Type:
Forty-five foot Omie Tillet
Capacity:
8 Anglers
Schedule:
Full day (inshore or offshore): 7:00am-3:00pm
Engine:
Cat 800 HP Diesel
Equipment:
Shimano reels
Terminal tackle
Electric LP dredge reels
Furano electronics
Garmin monitors
Fighting chair
25-kilowatt radar
VHF antennas
Phasor generator
Dolphin battery charger
Ice box
Safety equipment
Crew:
Captain Mitch Pierson
Mate Sean O'Donnell
Mate Will Bassett
Included:
All equipment
Bait / tackle
Snacks
Beer
Sodas & water
Lunch
Fish cleaning service
Recommended:
Light comfortable clothing (shorts, t-shirt)
Long-sleeved shirt/cover-up
Swimsuits
Comfortable deck shoes
Waterproof sunscreen
Sunglasses
Camera
Strap for sunglasses or prescription lenses
Tight-fitting hats with brims (ball-caps, visors, etc.)
iPod/MP3 player
Restrictions:
No dark-soled shoes permitted on deck
Half-day charters are available for inshore fishing only
Please notify for special needs/ food requests
Permits & Tipping:
A gratuity of 10-20% to the captain and crew is customary. Temporary fishing permits are not included. Available for purchase at the INCOPESCA desk at the Los Suenos Marina charter dock