Costa Rica Fishing Charter: 28' Shamrock Express
The Perfect Choice for Smaller Groups
Don't let the big price tags of the larger charter boats in the Los Suenos Marina prevent your smaller group from experiencing the heart pounding thrill of Costa Rica offshore or inshore sportfishing at its finest!
We understand the dilemma: While larger groups have no issue splitting the high costs of a large sportfishing charter boat, smaller groups of 1-4 people are often left without any reasonably priced options.
It has been our goal to offer a Los Suenos fishing charter that features an excellent crew and high-end gear while still being affordable to smaller groups.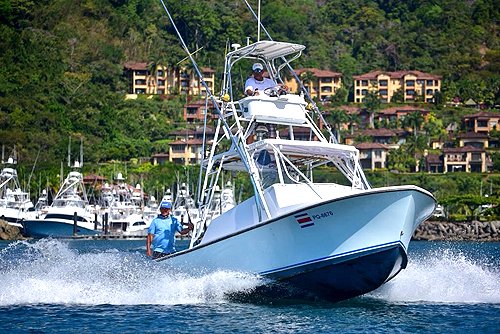 Modern Sportfishing Charter Boats

Coming in at 28 feet and with a top cruising speed of 25 knots, our Shamrock Express is the perfect solution for groups of up to 4 anglers who are looking to fish like the big boys, but without the high-ticket price of the larger charter boats.
Fully remodeled in 2015, the 28' Shamrock Express features a 275hp Cummins 6BTA Engine, Furuno electronics including GPS and Color Sounder, 24-mile radar, 2 VHF Radios, Penn International and Okuna Lite tackle, Lee Outriggers, Penn Spinners & Downrigger, Fish Finder, Biscayne Rods, tuna tubes and a live bait well. The front cabin features a fly bridge on top, which gives the captains an advantage for spotting fish. Other features include a stereo system, marine head in the v-birth, and ample shade.
Experienced Sportfishing Captains & Crew

But as we all know; excellent gear alone is not the only requirement for an awesome day of sportfishing. Featuring one of the most personable and dedicated crews in the marina, our Captains Luis and Javier, (along with their first mate Everth), have a reputation for proving time and again that hard work is often the difference between heading back to shore empty-handed, and heading back in with that feeling of elation that you can only get from truly great day fishing.
Home to the annual Costa Rica World Billfishing Series Championship, the Los Suenos Signature Billfishing Series, and the Los Suenos Triple Crown, the natural abundance of fish, the clear, flat seas, and the overall conditions out on the Pacific couldn't be better. IGFA Certified Captain Luis knows these waters well. With over 17 years of experience fishing the waters surrounding Los Suenos, Captain Luis has regularly fished the Triple Crown for 10 years running. IGFA Certified Captain Javier shares Luis's enthusiasm for fishing, and has a total of 25 years of experience under his belt. Together with first mate Everth, this bilingual crew has what it takes to put you on the fish of your dreams.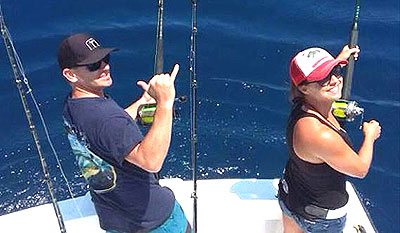 Sportfishing in Los Suenos, Costa Rica

Sportfishing in Costa Rica is a 'Bucket List' experience whether you're a group of traveling professionals, a small family, vacationing friends or a couple on your honeymoon. The 28' Shamrock Express is the perfect answer if are looking for an exciting day of Los Suenos sportfishing that won't make you scarify quality in order to stay within your budget. With a family-friendly, bilingual crew that lives to fish and has state-of-the-art electronics and equipment, the 28' Shamrock Express is ready to help you make your fishing dreams a reality.
Contact one of our agents today to reserve this charter boat, or let one of our knowledgeable and friendly vacation planners assist you in planning your ultimate Sportfishing vacation package.
Boat Type:
Twenty-eight foot Shamrock Express
Capacity:
4 Anglers
Schedule:
Full day (inshore or offshore): 7:00am-3:00pm
Half day (inshore only): 7:00am-12:00pm
Engine:
275hp Cummins 6BTA
Equipment:
Furuno electronics
GPS & color sounder
24-mile radar
2 VHF radios
Penn International and Okuna Lite tackle
Lee outriggers
Penn spinners & downrigger
Fish finder
Biscayne rods
Tuna tubes
Live bait well
Crew:
IGFA Certified Captain Luis
IGFA Certified Captain Javier
Mate: Everth
Included:
All equipment
Bait / tackle
Snacks
Beer
Sodas & water
Lunch (full day trips only)
Fish cleaning service
Recommended:
Light comfortable clothing (shorts, t-shirt)
Long-sleeved shirt/cover-up
Swimsuits
Comfortable deck shoes
Waterproof sunscreen
Sunglasses
Camera
Strap for sunglasses or prescription lenses
Tight-fitting hats with brims (ball-caps, visors, etc.)
iPod/MP3 player
Restrictions:
No dark-soled shoes permitted on deck
Half-day charters are available for inshore fishing only
Please notify for special needs/ food requests

Permits & Tipping:
A gratuity of 10-20% to the captain and crew is customary.
Temporary fishing permits are not included. Available for purchase at the INCOPESCA desk at the Los Suenos Marina charter dock
Capacity:
4 Anglers
Schedule:
Full day (inshore or offshore): 7:00am-3:00pm
Half day (inshore only): 7:00am-12:00pm
Engine:
275hp Cummins 6BTA
Included:
All equipment
Bait / tackle
Snacks
Beer
Sodas & water
Lunch
Fish cleaning service
Recommended:
Light comfortable clothing (shorts, t-shirt)
Long-sleeved shirt/cover-up
Swimsuits
Comfortable deck shoes
Waterproof sunscreen
Sunglasses
Camera
Strap for sunglasses or prescription lenses
Tight-fitting hats with brims (ball-caps, visors, etc.)
iPod/MP3 player