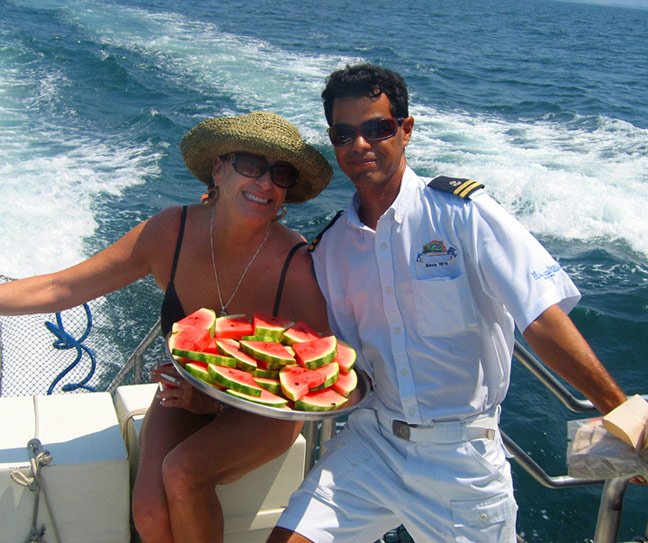 The day begins with a state-of-the-art, air-conditioned bus ride to Costa Rica's largest Pacific Port in Puntarenas. A delicious traditional Costa Rican breakfast will be waiting for you on your arrival to this historic port town.
Once on board the Catamaran, you will be treated to delicious tropical fruit plates, soft drinks and fruit juice. The adults in your group will have the option to purchase alcoholic beverages from the catamaran's full bar!
On your journey to Tortuga Island, you may lay on a net to cool off in the small pool at the front of the boat, enjoy the shaded breeze at the back of the boat, or take in the sites from the captain's deck.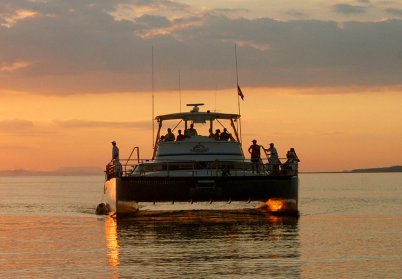 On Tortuga Island, there are a variety of activities to enjoy. The included snorkeling excursion and banana boat ride will be a hit with the family. Kayaking, fishing and hiking are also available on Tortuga Island for a small, additional fee. With a guaranteed 5 hours spent on Tortuga Island, your family will have plenty of time to enjoy the day.
A delicious four-course lunch on the beach will be served on tables set with white linen, shaded under umbrellas and giant parachutes, while live Marimba music creates the perfect tropical atmosphere. With our friendly bilingual crew, first-class catamaran and exciting amenities, your family trip to Tortuga Island will be an unforgettable experience for all! So if you're staying in the Playa Jaco and Los Suenos, Costa Rica areas, you'll surely want to visit one of the most idyllic islands of Costa Rica.