Los Suenos Fishing Charter: 43' Stapleton
Experience and Awards to Match.
If you dream of hauling IGFA World-Record Setting Roosterfish, Sailfish, Yellow Fin Tuna and up to 800 pound Blue and Black Fin Marlin out of the clear blue Costa Rica Pacific, Captain Mitch Pierson's 43-Foot Stapleton is the charter boat out of Los Suenos Marina you've been looking for.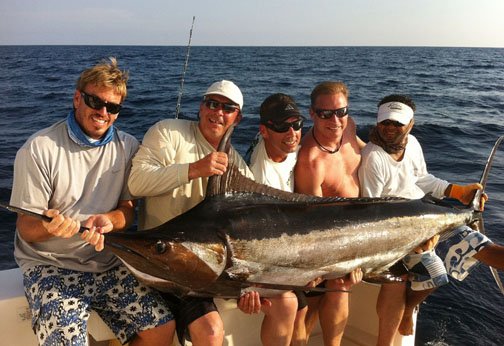 From the Los Suenos Marina, home of the Annual Costa Rica World Billfish Series Championship and Los Suenos Signature Billfish Series, Captain Mitch and his bilingual crew will lead you on an exciting excursion to find the perfect bite.
Whether you seek a fun day of family Costa Rica fishing, hard-hitting competitive-style sport fishing, or a little bit of both out of your Los Suenos Sports Fishing trip, the Stapleton's top of the line equipment, three fighting chairs and the best tackle on the market guarantee that you will spend your time fishing, not wishing.
The Offshore Sport fishing out of Costa Rica and the Los Suenos Marina is world-renowned for its abundant variety and incredible populations of fish, and with over 35 years of experience, 50 First Place Billfishing Championship Titles and 30 years as a certified member of the US Coast Guard, Captain Mitch has a reputation for setting new records catching them. Climb on board this fishing charter and let your full day of Costa Rica sports fishing be the highlight of your adventure vacation.
Boat Type:
​43-Foot Stapleton
Capacity:
8 Anglers
Engine:
Twin 385hp Cat.3126 Diesel Motors
Equipment:
GPS Plotter/Fish Finder, Stereo, Full Tower, 3 Fighting Chairs, Kennedy Fisher Blank Rods and Shimano Reels
Capacity:
8 Anglers
Engine:
Twin 385hp Cat.3126 Diesel Motors
Equipment:
GPS Plotter/Fish Finder, Stereo, Full Tower, 3 Fighting Chairs, Kennedy Fisher Blank Rods, Shimano Reels
Crew:
Captain Mitch Pierson, USA Coast Guard Certified Captain Mates: Jose and Osbaldo "Koala" Rodriguez
Schedule:
Departure 7:00am to your preferred time – Return 4:00-5:00pm
Included:
Gourmet lunch, snacks, beer, water and soda
Recommended:
Sunscreen, Sunglasses, Camera, Ipod/MP3, Ball-Cap or Visor and Comfortable Deck Shoes Please Notify for Special Needs/ Food Requests A Gratuity of 10% - 20% to the Captain and Crew is Customary