The Harmon Manor is the Los Sueños Resort's eclectic and masterful blend of Mediterranean and Pacific Island styles. Sited between the rainforest and the Los Sueños Signature Golf Course, the stately Harmon Manor offers the privacy and seclusion of the rainforest with a gallery view of the lynx.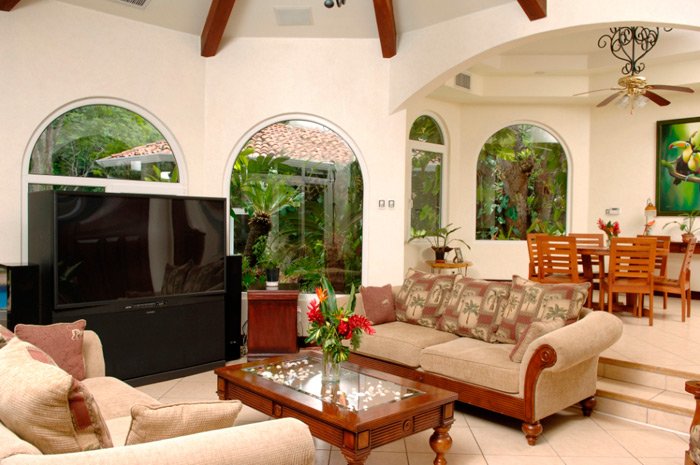 One of the resort's largest private homes, the Harmon Manor offers three separate suites and six bedrooms. The generously oversized swimming pool, living area and green area all contribute the spacious and open feel of the Manor. This gorgeous vacation home is equipped with all modern conveniences.
The Harmon Manor and all the residences that adorn the hillside of The Los Sueños Marriott Resort represent the ultimate luxury in an elite class of accommodations that can only be found within the gates of The Los Sueños Resort.
Boasting 1,100 acres, 500 residences, a 200-slip first-class marina, a signature 18-hole golf course and a Five-Star Marriott Hotel and Casino, there is no question why Los Sueños has made the "World's Best" List by Travel & Leisure Magazine
Rooms
3 Suites
6-Bed (1 King/4 Queens/1 Full)
6-Bathroom
Kitchen
Living Room
Dining Room
Amenities
Golf Course/Rainforest View
Private Swimming Pool
Detached Master Bedroom
2 Detached Guest Suites
Washer & Dryer
Cable
High Speed Wireless Internet
Air Conditioning
CD Player
Phone
24-Hour Security
Full-Time Maid Service
Complimentary Massage