Casa Los Monos Vacation Home (3-Bed)
Close to Playa Jaco, Casa Los Monos and all the estates that adorn the hillside of The Los Sueños Marriott Resort represent the ultimate luxury in an elite class of accommodations that can only be found within the gates of The Los Sueños Resort.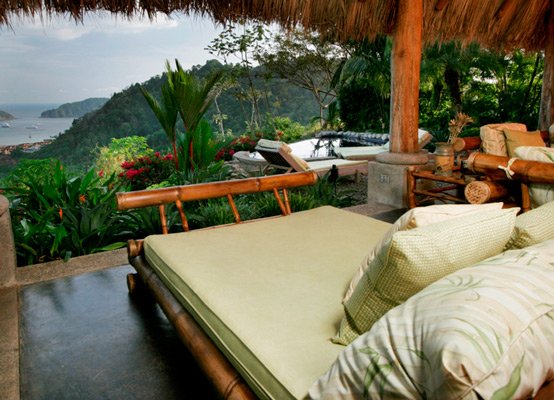 Casa Los Monos offers a private pool, detached master suite and two guest bedrooms - all with incredible ocean views. This residence has 24-hour security and maid service along with all modern technology and conveniences.
With its lush tropical gardens and sweeping ocean vista, Casa Los Monos is an exquisite balance of seclusion and exotic luxury. Enjoy your complimentary massage amid the sound of tropical birds at the side of your private infinity pool. And, later put on your best clothes and head to the resort for a night of five-star dining and casinos.
Boasting 1,100 acres, 500 residences, a 200-slip first-class marina, a signature 18-hole golf course and a Five-Star Marriott Hotel and Casino, there is no question why Los Sueños has made the "World's Best" List by Travel & Leisure Magazine. So why not enjoy luxury on your honeymoon in Costa Rica in the Los Suenos and Jaco Beach area.
Rooms
3-Bedroom (King/2 Full/2 Full)
3-Bathroom
Kitchen
Living Room
Dining Room
Patio/ Sun Deck
Amenities
Amazing Ocean View
Private Swimming Pool
Detached Master Bedroom
Washer & Dryer
Cable
High Speed Wireless internet
Air Conditioning
CD Player Phone
24-Hour Security
Full-Time Maid Service
Complimentary Massage