The Riviera Condos Vacation Rentals
These Jaco condos are located in the heart of the fun - The Riviera Luxury Condominiums offer the best location and value in Jaco Costa Rica near Los Suenos. Centrally located, elegantly furnished and steps from the ocean front, the Riviera Condominiums are an oasis of peace and tranquility that simultaneously offers your group direct access to Jaco's exciting nightlife. Enjoy shopping, casinos, restaurants, salons, tours, discotheques, local bars, cafes, and theaters - all by foot.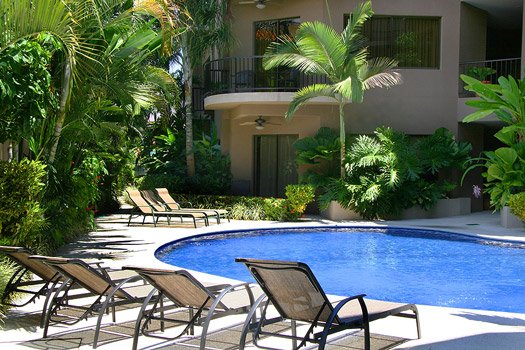 A rental car is unnecessary when you stay at the Riviera. Walk where you want, when you want – or if you prefer, catch a cab from the Riviera's front gates to any destination in Downtown Jaco for less than $2.00 a ride.
These 2-bed and 3-bed Jaco condos feature fully equipped kitchens with all the major appliances you need to make your stay in Costa Rica comfortable.
The master bedrooms features King Sized Beds while the Guest Rooms offer either two Twins or one Queen Sized Bed. There are two Bathrooms, Living Rooms with a Flat Screen TVs, Cable, Sofa Bed and a Dinning Balcony or Patio. So contact us today and book a little luxury on your getaway to the Playa Jaco and Los Suenos, Costa Rica area.
Rooms
2/3-Bedroom (King/Queen/2 Full)
2-Bathroom
Living Room
Kitchen
Dining Room
Amenities
Swimming Pool
Jacuzzi
Gourmet Kitchen
Washer & dryer
Cable
WiFi Internet
Air Conditioning
Secured Parking
24-Hour Security